Agapet (Ghana) Limited
We are Agapet (Ghana) Limited, a private sector Oil Marketing company that is committed to the highest standards of Professionalism, efficiency and respect for people and the environment.
We are one of the fast growing companies in the industry today and operate in eight of Ghana's ten regions.
In addition to Agapet Limited providing fuel, lubricants and convenient shopping services for the general public, we supply fuel to the manufacturing, agricultural and haulage sectors of the economy.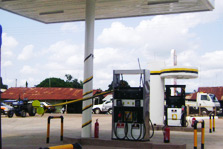 Agapet Limited was set up in response to growing demand for petroleum retail station services and to fill the gap left by the established multinationals that only operate in specific locations to the neglect of other locations, which equally need such services. The company was licensed in May 2003 and started operations in June the same year. Agapet has actually grown faster than the promoters had envisaged. This is an enviable achievement. It is no wonder that Tema Oil Refinery (TOR) and the Bulk Distribution Companies (BDC) rated Agapet high among the Indigenous Oil Marketing Companies (OMCs) that do business with them.